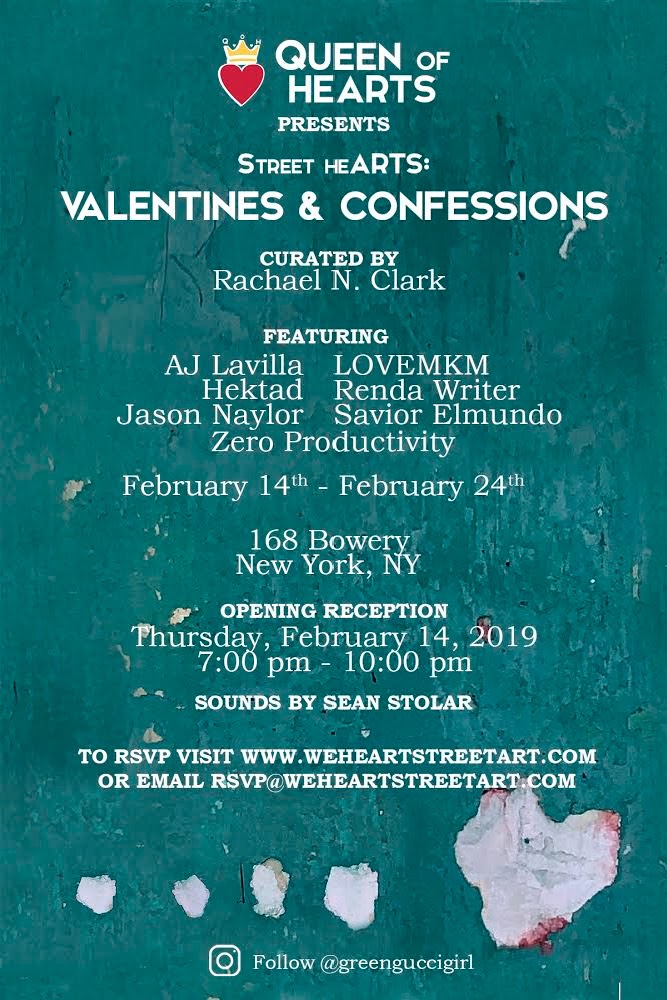 STREET HEARTS: Valentines & Confessions
About this Event
With roots in the graffiti scene that dominated New York City in the 1970s and 80s, "street art" is a genre with a broad, vibrant spectrum of mediums — wheatpaste, stickers, stencils, paint, murals — encompassing elements and parallels of formally recognized genres of art, including surrealism, abstract expressionism, pop art, even romanticism, making street art relatable to a wide audience.
"Street heARTS: Valentines & Confessions" explores and celebrates the wide range of emotions evoked by Valentine's Day — joy, obligation, love, anger, loneliness, elation, passion, rejection — as interpreted by street artists who started their careers in New York City, many of whom the curator affectionately calls #heartists. Street art is the ideal medium to capture a celebration of these emotions — good, bad, and painful — because it is a diverse and universal genre, just like the symbol recognized as a heart.
While Valentine's Day is often derided as merely a greeting card holiday, "Street heARTS: Valentines & Confessions" aims to shift this perception. As a counterpoint to the romanticized, and commercialized, notion of Valentine's Day, the artists were asked explore the concept of Confessions — unrequited love, missed opportunities, lust, self doubt — and depict the deeper, perhaps darker, side of their their Valentines, which vividly depict the broad spectrum of emotions evoked by the holiday.
It may seem contradictory to explore these private emotions with the public genre of street art, but street art is already very personal — the artists' emotions are communicated in every piece they put up. These street artists display their "heart on the street" regularly, like a greeting card, but "Street heARTS: Valentines & Confessions" is an unique opportunity to see what they confess, feel their passion for all art in the street, and catch a glimpse into one person's perplexing love of the "reddest day of the year".
2018
"The Dream is Real" First solo gallery & pop up shop; 198 Allen Street NY, NY 10002
"An Evening of Art" Minds Ahead & Mental Health Association of NY curated by AJ Lavilla; Chelsea Fine Arts Building, 508 W 26th Street NY, NY 10022
"Children of the World" Young American Friends of Sheba Medical Center; Hotel on Rivington 107 Rivington Street NY, NY 10002
2017
"The New Supper" Fat Free Art Gallery, 102 Allen Street., New York, NY 10002
"Inside Out" Project For Living Artists, 38-02 61st St., Woodside, NY 11377
"Mapsters of Street Art" Fat Free Art Gallery, 102 Allen Street., New York, NY 10002
"30 x 40" The Local NYC, 1302 44th Ave., Long Island City, NY 11101